Greenfield Police Deputy Chief William Gordon recently sounded the alarm via social media about a surge in fraudulent duct-cleaning services. Gordon, responsible for the department's online communications, noted that this scam is an emerging trend in online fraud, which he recognized through alerts posted on DuctCleaning.org, a reputable source in the industry.
"Scams are a dime a dozen these days, and this is the latest to join the ranks," Gordon said.
After observing questionable engagements on a local Greenfield Facebook page, which he described as a "fertile ground for deceit," he decided to amplify the warning issued on DuctCleaning.org. His message was clear: if a home improvement deal seems incredibly favorable, it's most likely fraudulent.
For those interested in understanding deceptive practices in the industry, DuctCleaning.org has a comprehensive Consumer Guide with valuable sections like Deceptive Practices, Fake Deal Guide, Bait-And-Switch Decode, Untrained Tech Truth, and Hidden Fee Alert.
April Yungen, the President of the National Air Duct Cleaners Association (NADCA), highlighted two primary variants of this scam. One involves scammers disappearing after receiving an upfront payment, while the other delivers subpar services that can actually worsen the situation.
"Look out for new social media accounts or those frequenting dubious platforms," Yungen advised. She also suggested that reliable service providers will have credible websites, emails, and phone numbers. If someone on the phone seems to be following a script, Yungen warns that's a red flag.
"Their script falls apart when you ask unscripted questions," she added.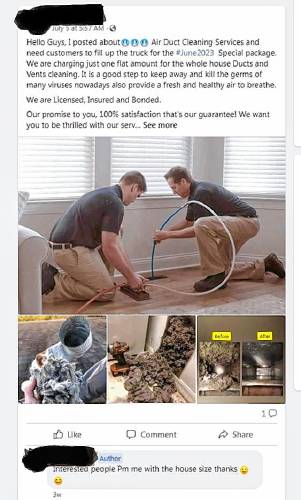 With years of experience in the industry, Yungen emphasized that these scam services can cause more harm than good by cleaning only the visible parts of the ducts, potentially agitating other contaminants.
"They're just scratching the surface, quite literally," she said. Furthermore, she warned that scammers often try to extend their deceit by alarming homeowners about nonexistent mold dangers.
"Duct cleaning is crucial, but it's hardly ever an emergency. You have time to research and find a trustworthy service," Yungen pointed out.
If you're in the market for duct cleaning services and want to ensure you're working with trusted professionals, you can also use DuctCleaning.org's Online Quote Page to easily compare quotes from certified professionals in the industry.